TEAM
Kevin Wronske, Devyn Miska, Kyle Reckling, Antonio Pacheco
LOCATION
Silver Lake, Los Angeles, California
The Twin Peaks are under construction! The project consists of two detached condos in the hills of Silver Lake. The exaggerated roof lines mimic the hills while creating unique interior spaces that collect daylighting and experiment with reflected color.
03/01/19: The wet winter has been tough on the schedule but the houses are finally getting wrapped. The exposed framing in the foreground is a double shear wall so we need to insulate it first, then get inspected, then add the plywood shear, get it inspected by the structural engineer and deputy inspector and building inspector, and then we can wrap it.
02/15/19: Windows and skylights installed in the upper home. The view from the master suite is even better than expected, reaching from Mt. Baldy to the Hollywood sign. The skylight is operable by remote with a small solar panel attached on the exterior.
01/29/19: View over the front house from the back house.
01/15/19: New Year, new house. The front home's framing is nearing completion.
12/28/18: Front house framing is up to the third floor. Windows are being installed on the back house.
12/15/18: Dear Rain, Your ability to nourish those around you is profound. It's just that lately you've been a little too intense. I think it'd be best if we took a break so I have some space to work on myself. Please.
11/20/2018: The upper house is 95% framed.
10/18/2018: The garage slab has been placed on the lower home. This marks the last major concrete pour on the project. Woohoo!
10/6/2018: Shotcrete wall curing.
10/3/2018: Shotcrete day! 12 trucks of concrete deleviered and the guys had to work until 8 pm to git 'er done.
10/1/2018: Rebar and waterproofing nearing completion on the lower wall.
9/24/2018: Waterproofing installation and rebar beginning on the lower wall.
9/10/2018: The upper house framing is humming along while the lower house gets one more round of excavation.
8/25/2018: Framing has begun! The first floor walls on the upper house are installed.
8/18/18: Slab city! The upper house hit a big milestone today and is ready for framing.
07/26/18: Pile cages craned into place. Since the piles are over 50' deep, the bottom half is lowered into the hole first and then the top half is craned into place and spliced to the bottom half. Once spliced together, the crane then lowers both pieces into their final resting place.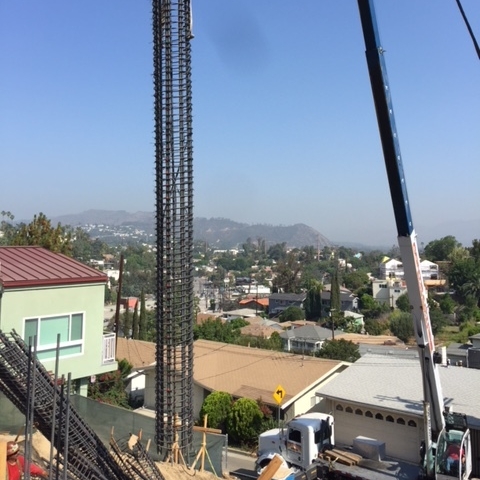 07/01/18: First concrete pour. The back retaining wall footings on the back house is the first concrete on site.
06/06/18: Groundbreaking!